Nowadays, everyone needs premium software and tools to run their businesses better in this digital world, but some users don't want to bear the software license cost. And they try to get it through off-the-road techniques, such as buying Nulled WHMCS or a Shared WHMCS license (a fancy version for the former). People also try to go for a Free WHMCS license, but that also does not legally exist.
What is Nulled WHMCS?
Nulled means making a licensed software work fine without requiring any license. Before writing this blog, let me clarify one thing: it is not supported by WHMCS and is created illegally. So, a nulled WHMCS may work fine without registering with WHMCS Vender, but it is illegal.  
Undoubtedly, these types of software are tempting because of the reduced costs. Still, the nulled software seller has modified the original code (to strip licensing requirements). While modifying the code, they will inject malware or trojan horse (a common practice among providers), making your WHMCS installation prone to attacks. And the seller himself can always access your WHMCS himself. It will hurt your business, showing that you are not serious about your long-term business success. 
Even if you're not a web host, even then, nulled WHMCS is your concern. How? If your hosting provider uses a "Nulled WHMCS," It can still pose a severe risk to your website and data. I recommend you go with the most reliable hosting provider because it is one of the concrete foundation steps of an online business.  
What is a shared WHMCS license?
Shared WHMCS licenses are another illusion, where the seller sells illegal licenses at a minimal monthly fee and disguises it as a "shared license." If you check the WHMCS website, such licenses do not exist.
In a shared WHMCS license, the illegal seller overrides WHMCS licensing mechanism and tricks WHMCS into thinking that the copy is legal by sending the verification license to a dummy licensing server.
Free WHMCS Licence
WHMCS does not offer free licenses. Yes! No free lunches. But they do offer development licenses for free. These license installations are marked with a message on every page that this is a development license and should not be used for production purposes. So technically, you can have a Free WHMCS but not for commercial use.
WHMCS makers also require that you own a standard WHMCS license before applying for a development license.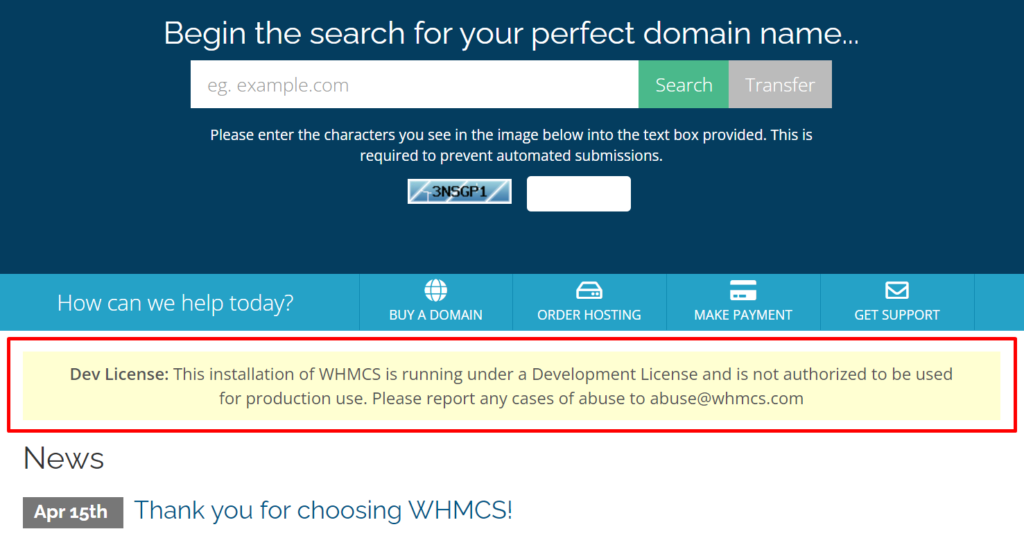 Why Not Use Nulled WHMCS or Shared WHMCS Licenses?
Using nulled WHCMS reduces the cost, but it can cause you severe security issues, so I will never recommend it to anyone. The following are the main factors to consider before choosing an illegal license. 
Business Implications
Generally, a nulled WHMCS reduces costs, but legitimate businesses don't fall for it. It can interrupt your business significantly because WHMCS regularly checks and reports illegal or nulled installations. 
Web hosting companies using nulled WHMCS also cause their customers downtimes who are hosting their websites. Whenever WHMCS legal team receives notifications about illegal installations, they take appropriate actions to stop this activity. If a hosting provider is using it illegally, they will face downtimes.  
Security Risks
Generally, Nulled WHMCS seller modifies the code, which allows him to access your and customer's usernames, passwords, credit card information, and other confidential data. So, they can collect your customers' data and share it with any interested third party without your knowledge. In the worst-case scenario, it can lead to root server access being compromised as server passwords or reseller hosting passwords are saved in WHMCS too. If you go with a fully licensed WHMCS, the chances of such compromise are rare.
Bad Impact
Over time, the nulled license becomes more dangerous because they don't have official releases and updates. Moreover, third-party software compatibility, updates, and other essential features are missing in a nulled WHMCS. Nevertheless, you always miss new features, important updates, and quality support by the officials.  
For Hosting Customers
When you search for a new web hosting provider, it is essential to ensure whether they are using a valid WHMCS License or an illegal and Nulled WHMCS license. You can go to the WHMCS website and verify your web hosting provider using the WHMCS domain verification tool.
Conclusion
Whether you are a person, or a business startup, buying a web hosting plan from a hosting provider without a WHMCS license can cause serious problems. So, it is highly recommended to go with a valid WHMCS license and choose a hosting provider delivering legal WHMCS. 
As discussed earlier, licensed software means maintaining security, data protection, regular updates, and developers' support to get an excellent web hosting experience.

People who buy directly from WHMCS will have the licenses shown like this on the WHMCS site. Shared WHMCS license providers may also offer keys, but not like this.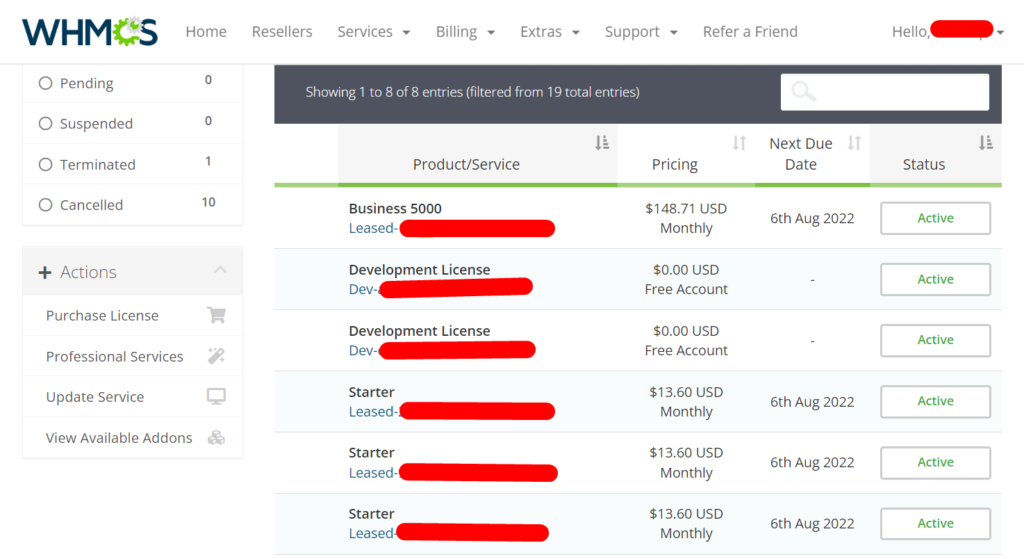 Spending a little money will save you and your customers from disasters ahead. And if something goes wrong, WHMCS offers excellent support. Legal WHMCS licenses are based on how many active customers you have (while illegal ones generally offer unlimited customers). License prices from the WHMCS website are
All businesses with more than 500 active customers need to go for a business WHMCS license, and there are further tiers in it, so you will be billed with Business Plan price plus tier prices plus the cost number of active customers as follows.